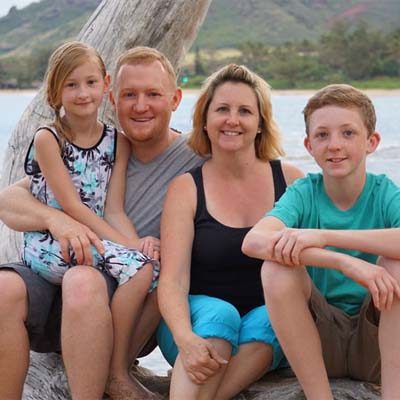 Chiropractor
Richard Eddie Adams, DC
Hello from your Chiropractor in Star, Idaho! My given name is Richard Eddie Adams, but most people call me "Ed". I was born and raised in Whittier, California and graduated from LACC (Los Angeles College of Chiropractic) in 1998.
My first experience with chiropractic came when I was cycling competitively as a teenager. At a weekend race, I crashed and decided to let the team chiropractor work his magic. The good news is that I was back on my bike the following weekend. After that injury, I became increasingly interested in natural healthcare. After high school, I volunteered at a local chiropractic clinic to learn more, and ultimately enrolled in Chiropractic College. I love what I do, and can't imagine being in any other profession.
Here's a little bit more about me, personally. I'm married to my best friend Tomi. Together, we are raising two amazing children. Garrett is 20, a drummer, and a genius with computers. Angelina (Annie) is 15 and is our small, but mighty artist. When I'm not taking care of my patients or finishing the "honey-do" list, you will find me outdoors hiking and biking.
My goal is to help my patients move beyond symptom management toward a state of health and wellbeing. I want to empower them to be proactive participants in their care, making healthy decisions in their everyday lives. My wife and I strive to live a chiropractic lifestyle and share our expertise with patients so that they can make well-informed health decisions. I believe that families under chiropractic care are healthier than families that are not. As a doctor, I have extensive post-graduate training, knowledge and adjusting skills. I have attended hundreds of lectures, seminars and workshops to keep up-to-date with the latest research and developments in chiropractic and wellness.
Well, that's enough about me! If you have any health concerns, I would love to meet you and see how I can help. Feel free to send me a message or give me a call anytime. Thank you in advance for considering me for your health care needs.
Chiropractor
Thomas Austin, DC
Thomas Austin D.C. has been practicing in San Jose, CA for the last 38 years where his great grandfather and great grandmother started the practice back in 1911. Together with his brother, Tom and Richard are 4th generation doctors and are part of the longest-established Chiropractic practice in the world!
After 34 years they are happy to be practicing together again along with Dr. Ed. Dr. Tom's daughter, Meghan Dowling D.C. (5th generation Doctor of Chiropractic), continues to practice in San Jose.
Dr. Tom graduated Summa Cum Laude from LACC (Los Angeles College of Chiropractic) in 1984. He practices the Diversified technique, Thomson drop, mechanical traction, and myofascial release as his primary techniques. In his general practice, he sees everyone from infants to 90-year-olds and normally treats entire families of multiple generations.
Dr. Tom is married to his wife of 40 years and has 3 children and soon to 5 grandchildren. He enjoys all the outdoors Idaho has to offer including hiking, biking, hunting, fishing, and, since moving to the Treasure Valley in 2021, floating the river!
Dr. Tom and his wife feel grateful and blessed to be part of the Star community and look forward to providing patients the best in experienced Chiropractic care.
OFFICE HOURS
---
Monday
8:30am - 6:00pm

---
Tuesday
8:30am - 6:00pm
---
Wednesday
8:30am - 6:00pm
---
Thursday
8:30pm - 6:00pm
---
Friday
Closed